History of WECO
Jules Weinbrenner was born in Vieux-Thann on 21 April 1877 and also died there on 26 May 1952. After studying engineering, in 1911 he founded the company WECO (Weinbrenner et Compagnie) in Thann, manufacturer of spinning machines. There was nothing to suggest at the time that its products would roll, press and melt millions of tons of steel, mix thousands of m3 of rubber and synthetic products and contribute to the development of alpine tourism.
It was in 1932 that Jules Weinbrenner developed his first precision speed reducers with hand-cast cast iron casings on an annex site installed in Vieux Thann at the current site of "Intermarché" and employing nearly 80 people. These gearboxes are now installed worldwide.
In 1940, the occupier expelled him for reasons of Francophonie and placed his business in receivership. Upon liberation, he took over the reins and made it a flagship of the local industry.
After his death, the company will be managed by his grandson, Mr. Bernard GOSSEL.
The apogee of this company of the Thur valley was reached in the years 1964-65 then it was stagnation and bankruptcy in 1985. Circumstances which allowed foreign investors to acquire the company, which, convinced of the possible sustainability of the company, bring a number of changes…
Creation of WECO II from January 1986, which was first of all accompanied by a reorganization of the financial situation and a questioning of the operation of the Thann plant: commercial strategy, opening of new markets, new sales forces, technical renewal, development and improvement of research and quality. But society struggles to recover.
It was not until the takeover of Mr. DUSORDET to resume growth, WECO joined a French group made up of several mechanical companies including DSN in Grenoble and PIONCHON in Chassieu.
In 1996, the company became part of the British group DAVID BROWN.
In September 2019, after an accumulation of numerous debts, the liquidator proceeds to the sale of all tangible and intangible assets of the company David Brown France Engrenages WECO. The company PROMEA buys all plans and technical files in order to continue the WECO adventure.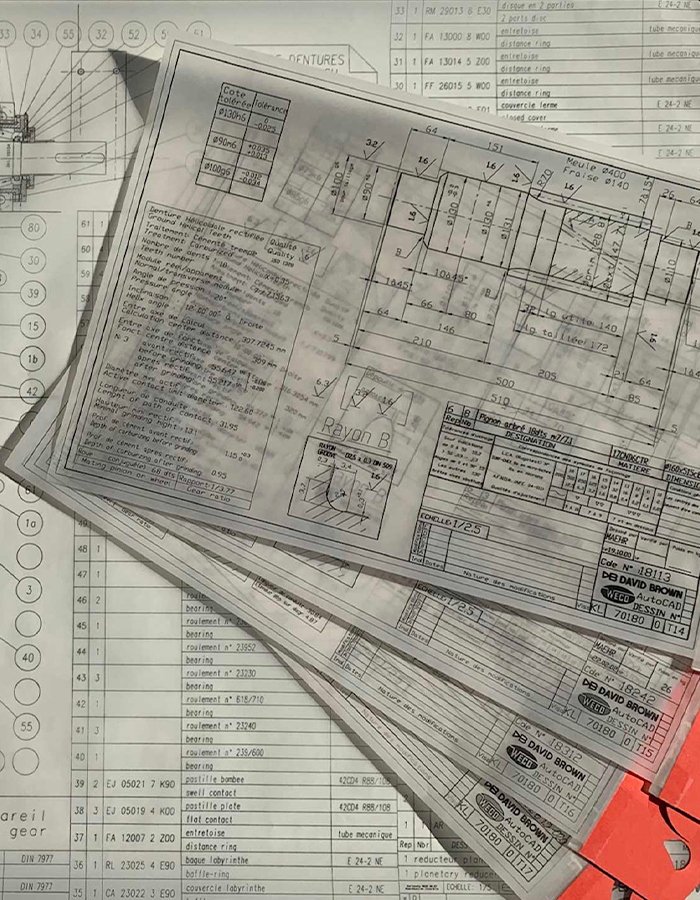 Promea ensures the continuity of services for the DBFE, WECO and BEYER brands
Continuity of services for these brands through :
PROMEA is the sole holder of all the original plans and technical files prior to April 2019 to ensure the continuity of services for the DAVID BROWN France ENGRENAGES, WECO and BEYER brands throughout the world
Reliability
A unique know-how in technical expertise with more than 5000 gearboxes examined and proven procedures. High precision parts and engineering capabilities for highly reliable solutions.
We combine high precision parts with our engineering capabilities to provide you with highly reliable solutions.
Flexibility
Creative solutions compatible with your budget realities and your production requirements.
All options are possible: from simple supervision to "turnkey" service.
Independence
An objective technical approach with reports indicating the defects found, a diagnosis and the different repair options.
Our role is to help you make decisions, because with PROMEA, you are the one who decides in total transparency
Network
PROMEA gives you access to a large network of specialized partners.
We will remain your preferred contact throughout the case and ensure technical control and operational follow-up.
80
countries with installed gearboxes
A global offering
based on 5 competencies